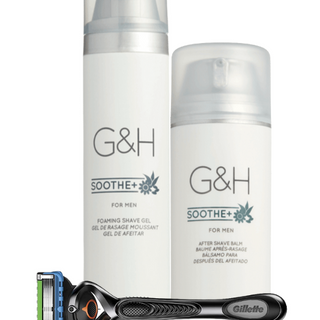 The Perfect Shave
Product information
In stock and ready to ship
Enjoy the ultimate shave routine with our Perfect Shave kit.
Shield from razor burn with our foaming shave gel– Rich, foaming texture increases razor glide and softens beard hair for an easy shave from start to finish. Made with Licorice Root extract to help soothe skin.
Soothe Irritation with our After Shave Balm – This moisturizing, non-greasy formula is made with aloe vera extract, vitamin E and chamomile to calm and soothe skin.
Gilette Razor with blades that are long lasting, without sacrificing quality or comfort.