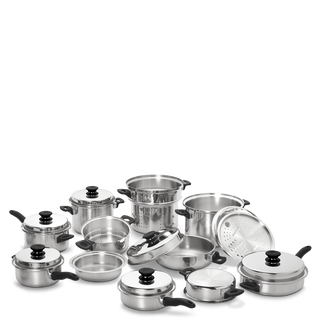 The Essentials Cooking Bundle
Product information
In stock and ready to ship
19-piece cookware set for healthier meals
Configured for the way people cook today, the 19-piece iCookTM stainless steel cookware collection features all the basics, including an 8L Dutch Oven, and convenient extras such as the steamer/grater insert and pasta insert.
Vitalok cooking method locks in nutrients and flavor.
Optitemp slab base provides excellent heat distribution for a more efficient cooking experience.
Duramic cook without oils or butter as this nonstick coating is the toughest, most durable nonstick coating in the world.
Multi-ply aluminum and stainless steel construction.
Heat resistant handles are ergonomically designed for a comfortable and easy grip.